CARNIVAL tells the story of a mother returning to visit her young daughter. This is a testing time for Rochelle, she has to prove she has moved on from her wild and dangerous past in order to keep her ties to her daughter and build a future for both of them, together.
Whilst at the carnival she meets the man from her past. She cannot afford to mess up this time otherwise she will face the prospect of losing access to her daughter forever. She must decide whether she wants to be a different, responsible mother or go back to her shady past. The choice she makes will determine her child's future. With a cast of a thousand extras, CARNIVAL unfolds in the vibrant and colourful world of the St Pauls Caribbean Carnival in Bristol.
Nadia Williams
TV Includes: Broadchurch, The Sparticle Mystery, Mistresses, Extras, Losing It, Casualty.
Theatre: Top Girls, I'm Not Running (National), A Midsummer Night's Dream(Tobacco Factory), Phaedra's Love (Bristol Old Vic/Barbican), Raising Kamila, After the Accident, One more Trick (Theatre West).
 For Radio: Poetry Please, Positive, The last Tudor, Black and White Riot, The Chosen One, O Margate.
Ed Browning
Ed is an actor known for his role as Paul Daniel in the TV series Poldark. Ed studied Performing Arts at City of Bath College. Whilst there he entered and won a BBC New Talent competition, which led to an opportunity to play a character in an episode of Doctors.  Ed was then offered the role of Curtis, in the popular Channel 4 comedy Teachers. Ed has learnt all his skills "on the job" working with some fantastic and inspiring actors and directors. Ed is represented by agent Rozzy Lloyd at The Narrow Road Company and is looking forward to exciting new opportunities.
Dennis McCalla
Dennis McCalla aka Dallas is a reggae singer and songwriter from Bristol, UK. Born in Jamaica, he was immersed with reggae, ska, and R'n'B before moving to England in 1963 where he encountered new forms of music, such as jazz and pop. Dallas' tumultuous life, full of ups and downs, has fed into his songwriting. His recent song Jah By My Side has received lots of airplay Peacemaker has been re-released on The Bristol Reggae Explosion. Dallas has supported well-known acts like Millie Jackson, Pat Kelly, and The Temptations as well as playing Glastonbury Festival in his own right. His close ties with Black Roots, one of the city's biggest reggae bands, has to lead him to perform with them as a guest vocalist on a number of occasions.
Dallas lives in Bristol, UK and as well as his music he is currently pursuing his acting career.
Haniya Lampkin Berry
Haniya Lampkin Berry is an active member of the Theatre Studio Cheltenham. She made her film debut aged 8 as Soraya in Carnival. She has also been in a nationally broadcast commercial for teaching.  She is the youngest of four girls and has Guyanese, Swiss and Jamaican ancestry.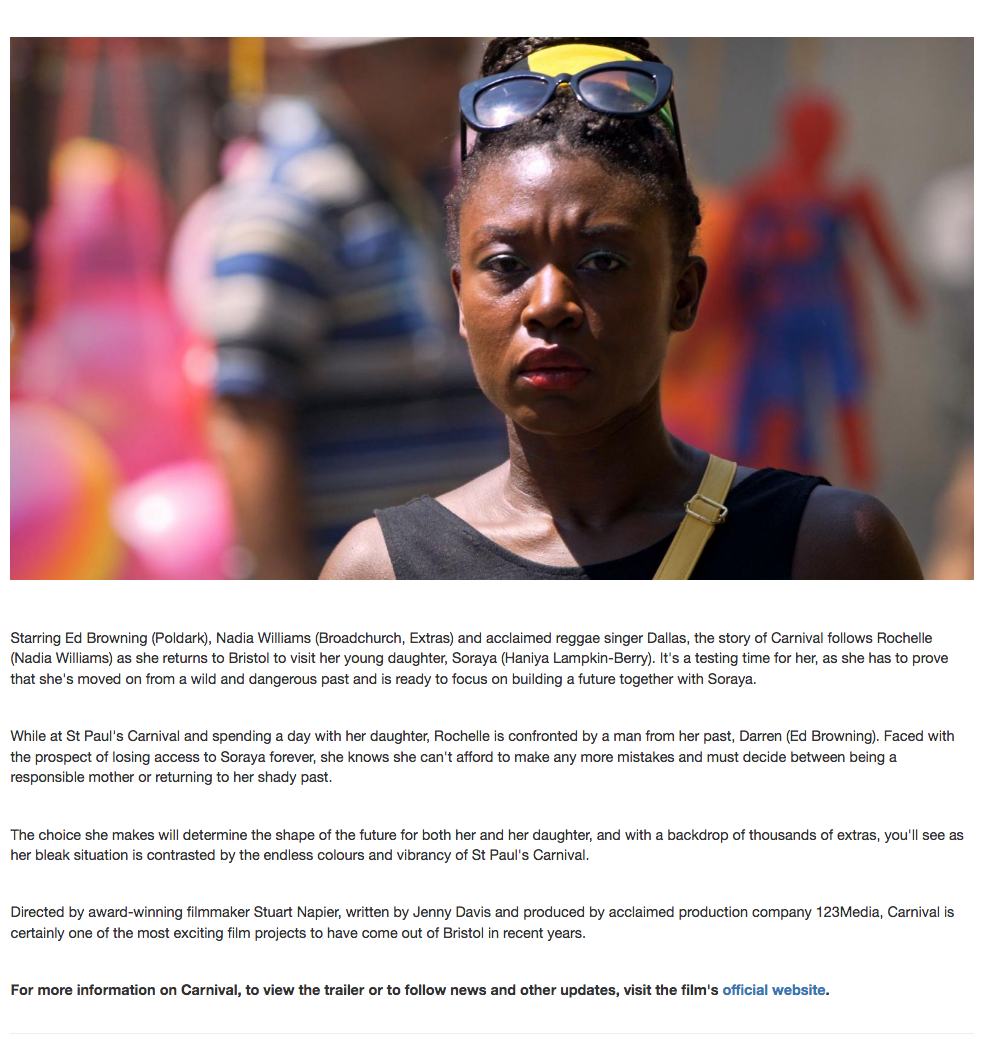 Director
Producer
Writer
Director of Photography
Sound Recordist
Original Music
Sound Design
Colourist
Assistant Camera
Location Assistant
Additional Photography
Stuart Napier
Stuart Napier
Jenny Davis
Mari Yamamura
Alex Preddy
Jonny Gunton
Abstract Audio
Daniel Beare
Sergejs Bozoks
Rianne Jones
Stuart Napier
Rochelle
Soraya
Darren
Grandad
Nadia Williams
Haniya Lampkin Berry
Ed Browning
Dennis McCalla
Mama
Jah By Your Side
Peacemaker
Living In Paradise
Written and performed by Nora Dean
Written and performed by Dallas
Written and performed by Dallas
Written and performed by Dallas